5 Ways to Turn Your Home into Japandi Style Interior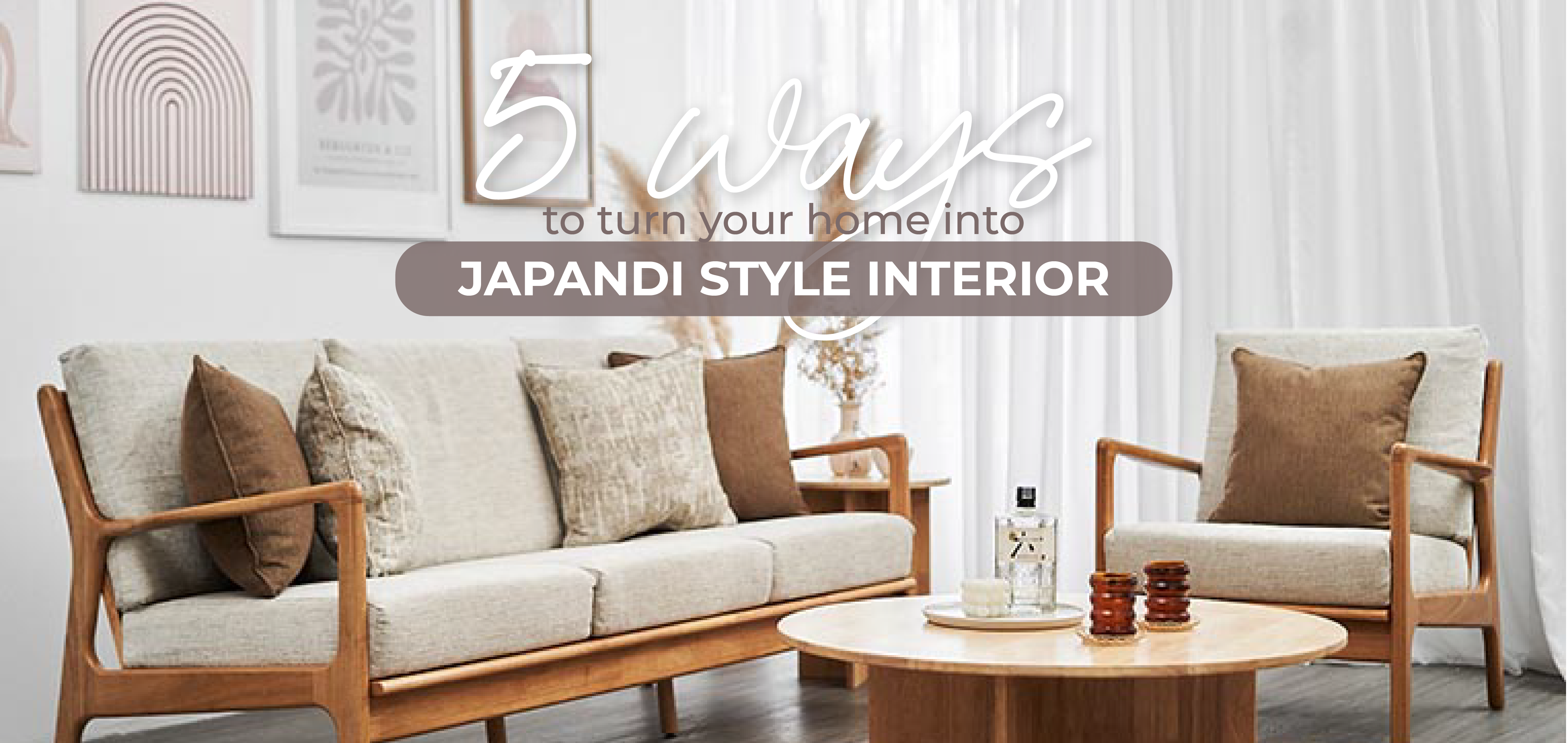 Japandi is a current emerging interior style that's becoming increasingly popular amongst Malaysians these few years. You may be asking yourself, what is Japandi? And is it right for me? According to Leni Calas, Japandi design is 'the combination of Scandinavian functionality and Japanese rustic minimalism to create a feeling of art, nature, and simplicity.' If you're someone who loves a minimalistic approach to home interior design that focuses on simplicity and natural elements, then you've definitely found the right place! Here are some elements to lookout for if you'd like to recreate this look in your own home.
With the arrival of our brand new Japandi collection, we wanted to share elements of what we love about it to you! We hope that you will eventually fall in love with our Freya 3 Seater Sofa, Oslo Mirror Stand, Lund Shoe Bench and many more products that were carefully curated by our R&D team after getting to know a bit more about Japandi.
---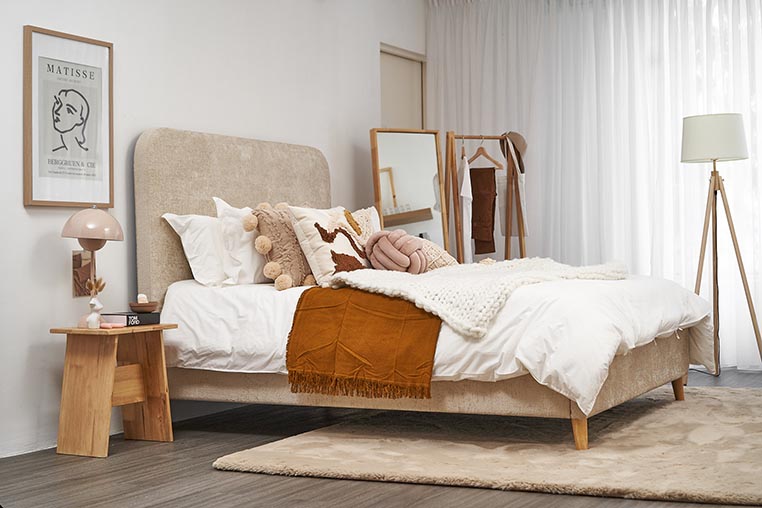 1. Quality over Quantity
The core identity of both Japanese and Scandinavian interior styles are its functionality and simplicity. Every single item in a Japandi interior is carefully curated to celebrate the concept of danshari - which means to be rid of all items that create negative feelings, and to retain only the items that you love. We can bring this theory to life with regards to the number of items in a room. While it is beautiful to have an assortment of collectibles with open shelves displaying all your favourite items, we can utilize the concept of danshari by shaving down the amount of display items, keeping each room neat, tidy and simple to emulate the Japandi experience.
---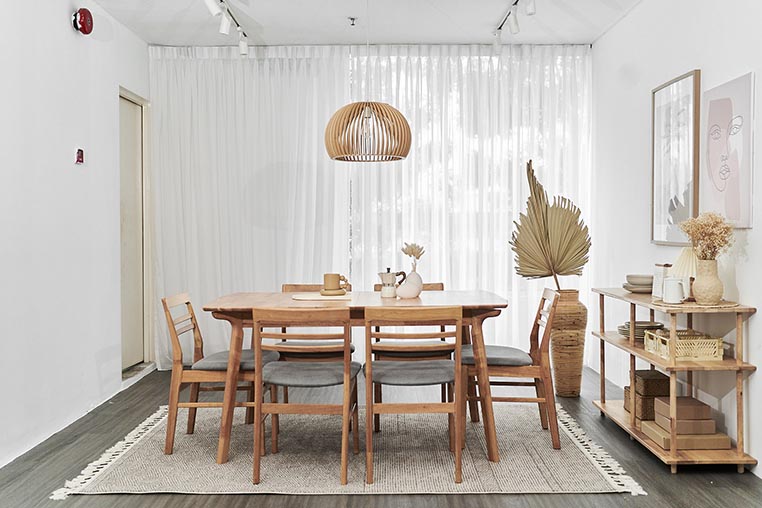 2. The Use of Light Wood
To properly style a Japandi room, you need to balance natural materials, and very clean lines. Keeping to a relatively limited, neutral palette for furniture and upholstery provides a modern, minimalistic take on two traditional styles. The use of light wood makes a room feel large and airy, and creates a sense of elegance. To add a little life into your products, you may choose to include other elements like rattan, wicker, cane or bamboo. This adds a touch of finesse and compliments the light wood to create a beautiful living space. We combined our Tonder Dining Table, Nova Dining Chairs, and Senja 3 Layer Shelf in our dining room setup to showcase that a wood on wood combo is one of the best ways to emulate a Japandi home!
---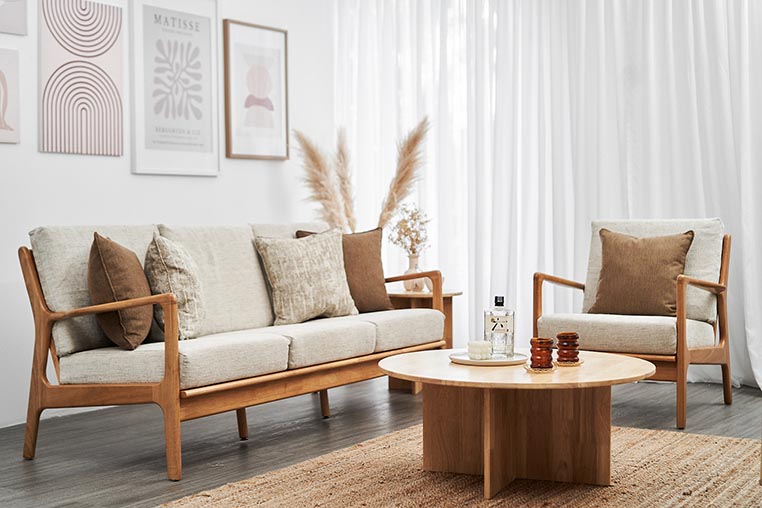 3. Textures, Fabrics and Materials
When it comes to fabric and textiles, the Japandi style is usually very muted, using shades of grey, beige, and oat to give the home a very clean look, but don't let the neutrals fool you! To give these colors a bit more excitement, we usually encourage people to go down a more tactile route by choosing materials that have texture and feel to the surface. This includes fabrics such as organic linen, organic brushed cotton, boucle, knits, crochets and corduroy. The added texture and natural shadows created by the materials are interesting and yet still relatively understated, perfect for any Japandi styled home. The Freya 1 Seater and Freya 3 Seater series to complete the sofa set. It has a beautiful show wood frame, paired with neutral fabrics that have simple clean lines to emulate the japandi philosophy.
---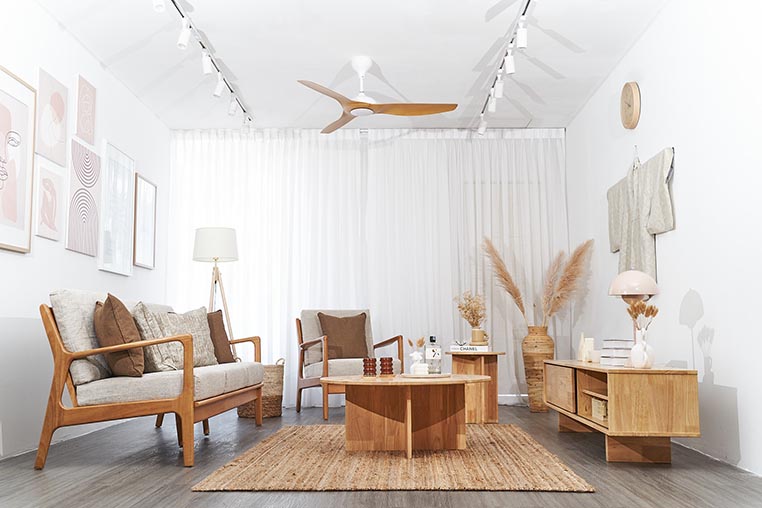 4. Low Profile Furniture
One of the earmarks of a typical Japandi interior setup is the use of it's low profile furniture. The Japanese and Scandinavian have always sided with a no-nonsense type of approach with their furniture, preferring simplicity over something elaborate. Our Skein Side Table, Skein Coffee Table, Skein TV Cabinet were created to fulfill this exact purpose. With its slim, narrow legs and boxy stature, the practical, sensible approach to each furniture gives it a very minimalistic vibe. Our advice is to try and shy away from anything that is overly ornate because this goes against the nature of what Japandi is supposed to be.
---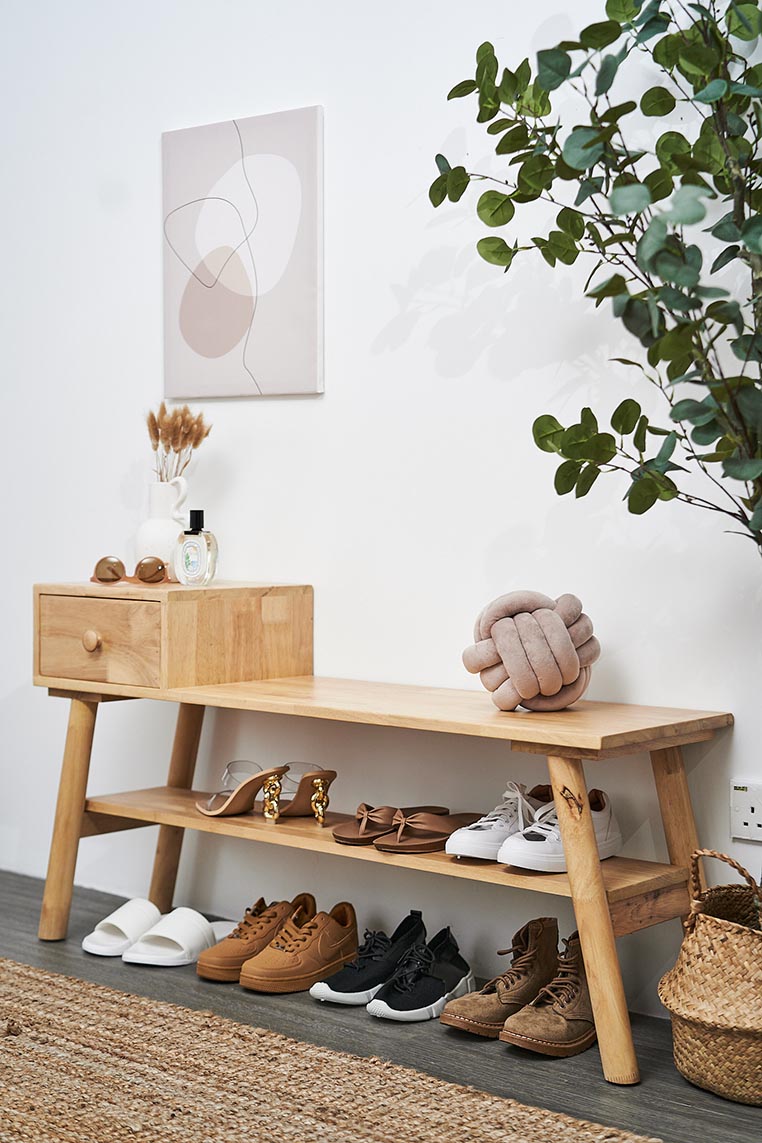 5. Form and Functionality
It's a very well known fact that all items in Japan honor form and functionality to the highest degree. Each product that's produced is both aesthetically pleasing, and serves a very important function in its design. Our Lund Shoe Bench is designed precisely for this purpose. This multifunctional bench has a drawer to store socks, or any other nicknacks on the way out of the house, has a beautiful shelf to display your shoes, and also can be used as a bench to put on said shoes right before leaving the house. It's also a great display piece to have right at the entrance, and still carries the essence of Japandi along with it.
---
Come visit us in stores at Fella Urban Ampang or Bukit Subang, or why not check out the entire Japandi collection under our New Arrivals? If you're looking to purchase the living and dining room collection for only RM9,199, why not check out our latest post for more details. Alternatively you can browse our full collection at https://www.fella.com.my/fellaurban or shop us online at https://www.zalora.com.my/fella-urban/!