8 Types of Furniture for Your Living Room
Types of Furniture
How many kinds of furniture can you use to decorate your living room? There is the ordinary sofa and coffee table option of course, but what if you don't want to go for ordinary? What if you want your living room to be extraordinary or otherwise different? To be sure, sofas and coffee tables are the living room staples, but there are a whole host of other furniture types that have proven themselves as excellent living room furniture pieces. So if you're tired of thinking about yet another design of sofa or coffee table you'll get in the next festive season, check out some of these amazing alternatives!
---
Buy the Vilonia Sofa from Fella Design!
---
Living Room Sofa
Of course, no list of furniture types for your living room would be complete without the trusty old sofa. In fact, one could even say a living room is made by it's sofa! A sofa is the centerpiece of the living room. It determines the initial impression and sets the mood or tone. It should be the first thing you think of when contemplating on your living room design. Let us help you out by recommending our 10 Easy Tips to Picking Your Living Room Sofa!
---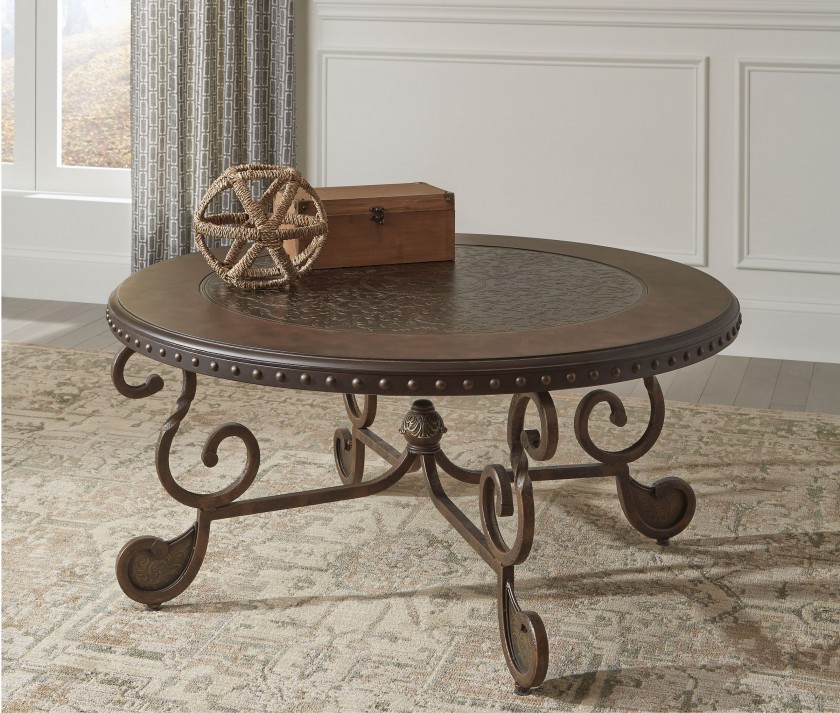 Buy Rafferty Coffee Table from Fella Design!
---
Coffee Table
Alongside your sofa set, yet another staple of the living room and sofa seating arrangement is of course the coffee table! For drinks, ashtrays and magazines, and of course, coffee, the coffee table is a functional furniture piece meant to provide a convenient platform upon which to place items in the living room. Alongside its utilitarian purpose, the coffee table also provides an important aesthetic element to the living room. Unlike sofas, which have more emphasis on colour against texture, a coffee table and its matching side tables usually place more emphasis on texture. When choosing your coffee table, its important to consider material aesthetics. Would you rather the dominant material in your living room to be wood, metal, glass, steel or ceramics? If you choose wood, do you want it to be a pale-colored wood, hardwood, or perhaps wood as employed by a particular style? (Check out Urban Culture's range of beautiful Rajasthani and Gujarati wooden furniture!) Once you've decided on the material aesthetics of your living room, the best and first place it should manifest is in your choice of coffee table! Complement your search by checking out our coffee table ideas for your living room!
---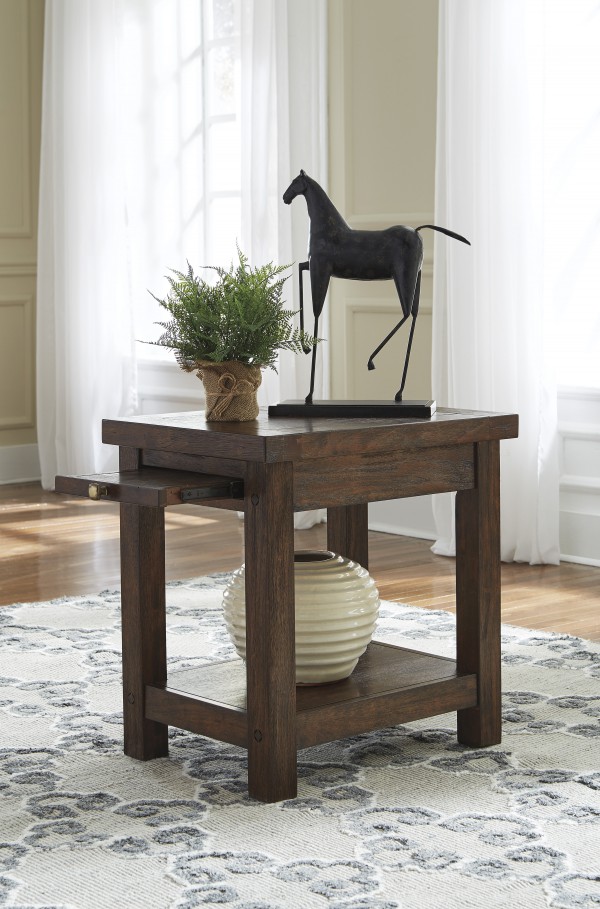 ---
Chair Side Table
Here is where things start getting fun. Feast your eyes on this beautiful, simplistic side table designed by the US furniture powerhouse Ashley Homestore. This is a chair side table. But what's the difference between a regular side table and a chair side table? The most obvious difference is that a regular side table is square-shaped, meant to be placed either in between sofas, or as the "joint" to a multiple-seater sofa arrangement. Although it can work some of the time, regular side tables don't really work well as a complementary piece to armchairs, wingchairs, or recliners. This is where the chair side table comes in. It is narrower and designed specifically to act as a platform in perfect arms reach for a single-seater! This particular model from Ashley even has a extendable platform in case you run out of space for your drinks!
---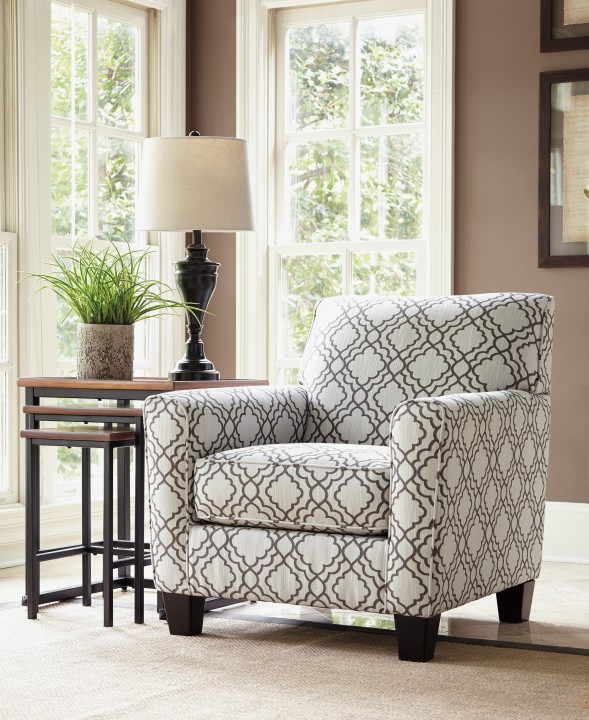 Buy Farouh Accent Chair from Fella Design!
---
Accent Chair
Typically, when choosing seating arrangements for your living room, you have three basic options. These three basic options are: the sofa, the armchair or wingchair, and the recliner. Furthermore, the three choices are usually embedded across two parameters: design and comfort. Of course, the best of both worlds is always preferred, but more often than not we have to make one choice over the other. Should my wingchair be more design-oriented or more comfort-oriented? In an ordinary scenario, a sofa should have a foot in both worlds. A sofa determines the fundamental design of your living room, but it shouldn't do so at the cost of too much comfort. A recliner however, is built for comfort, and a wise interior designer would sacrifice design at the gain of comfort when choosing a recliner. An armchair or wingchair however, and in the case of the above photo, an accent chair, is built for design. Accent chairs are beautiful statement pieces, meant to lift up the atmosphere of a living room by following the laws laid down by accent color. Check out our living room design ideas to see the role accent chairs play in a living space!
---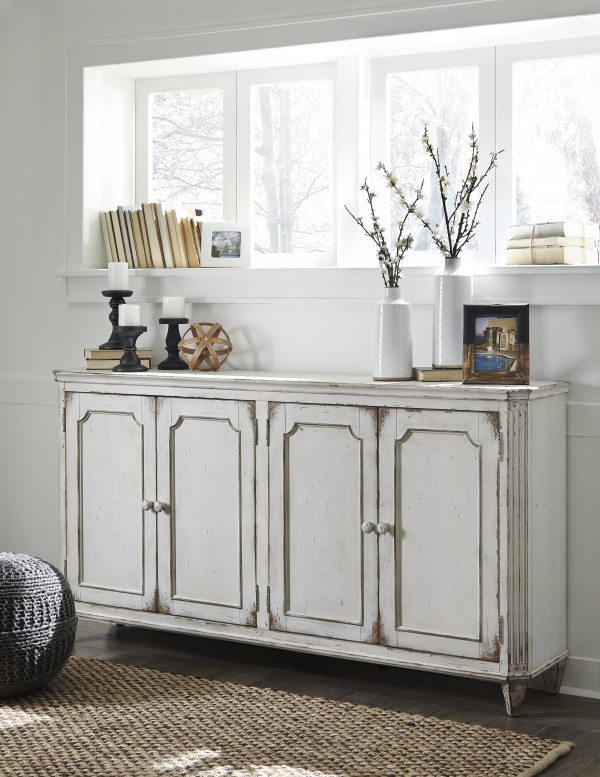 Buy Mirimyn Accent Cabinet from Fella Design!
---
Accent Cabinet
While determining color can be one of the most important things to decide when contemplating living room design, determining the material aesthetic or texture palette of your living room is no less important. Textures, unlike colors, are subtler, resulting in a higher difficulty in attempts to match. If white, black, red and blue constitute color, then wicker, fur, and the various characters of wood constitute material aesthetics. Picking occasionals and cabinets that emphasizes the textures of your living space can bring you surprising results. This accent cabinet by Ashley Homestores is a perfect example of what a burnished wooden texture, could do to add some sophistication to the environment.
---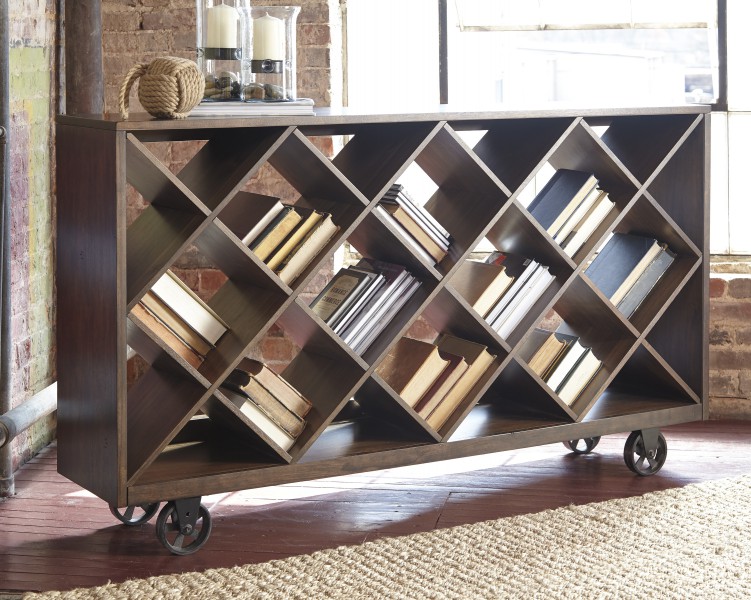 ---
Bookcase
For book and magazine lovers, one type of furniture that can definitely be considered is the bookcase. There are a great many varieties. The above example is also designed by Ashley Homestores. An interesting bookcase implies an interesting living room, and the sheer volume of the many different types of bookshelves provides a great array of versatility to the interior designer and the living room. So the next time you're thinking hard about how to furnish an empty corner of your living room, think of the bookcase!
---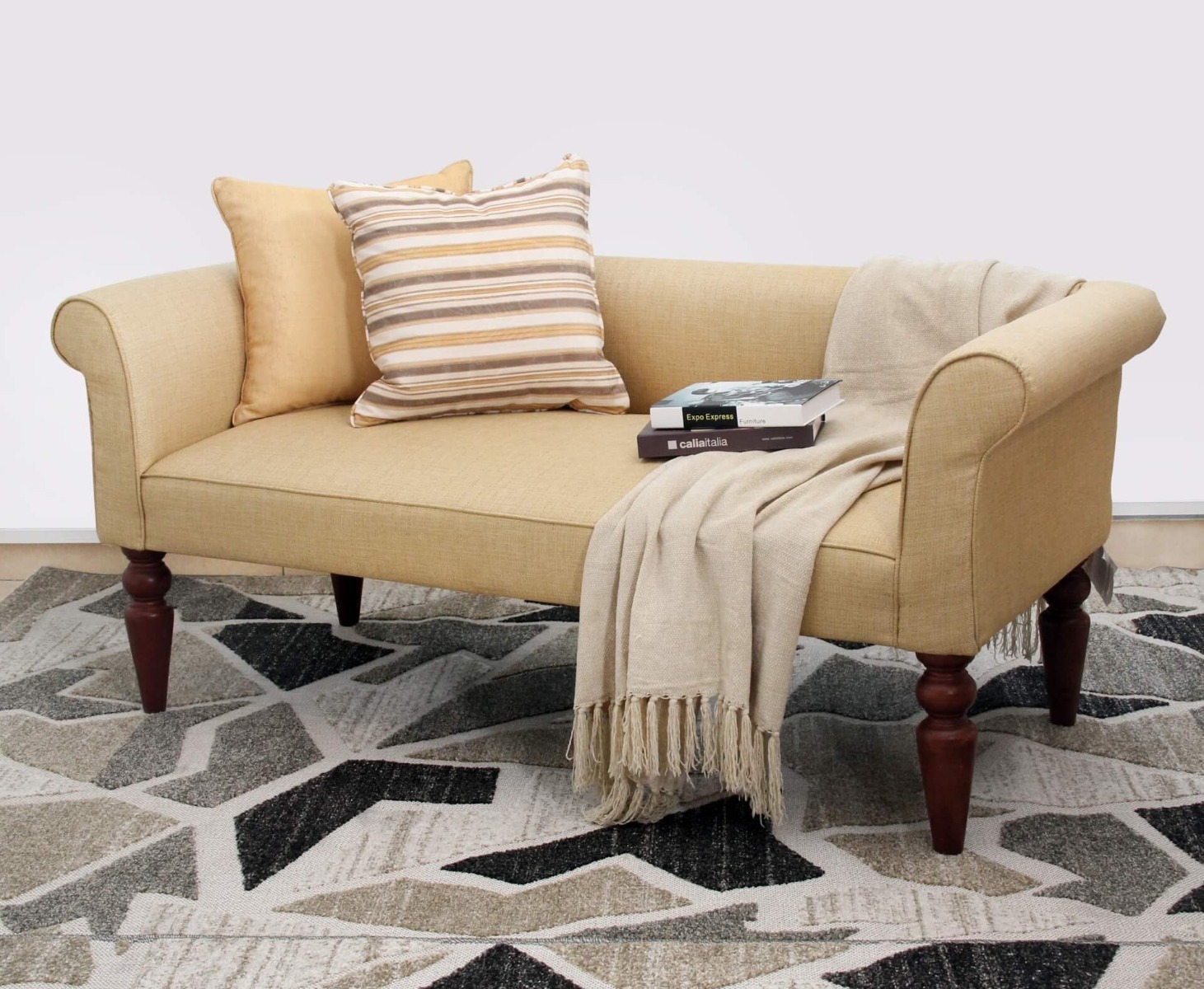 Buy the Lady Monaco Bench from Fella Design!
---
Bench
Of course, a list of furniture types for the living room would not be complete without the trusty bench. Usually a companion in the bedroom, especially at the end of a bed itself, the bench works very well in living room seating arrangements too. It fulfills the design-oriented role of an armchair, wingchair or accent chair, but simultaneously providing more space for guests. A bench caters much more to design than to functionality or comfort. As such, choosing benches that complement the accent color of your living room, or benches that are particularly impressive, imposing, or attention-grabbing, makes for an excellent addition into any living space.
---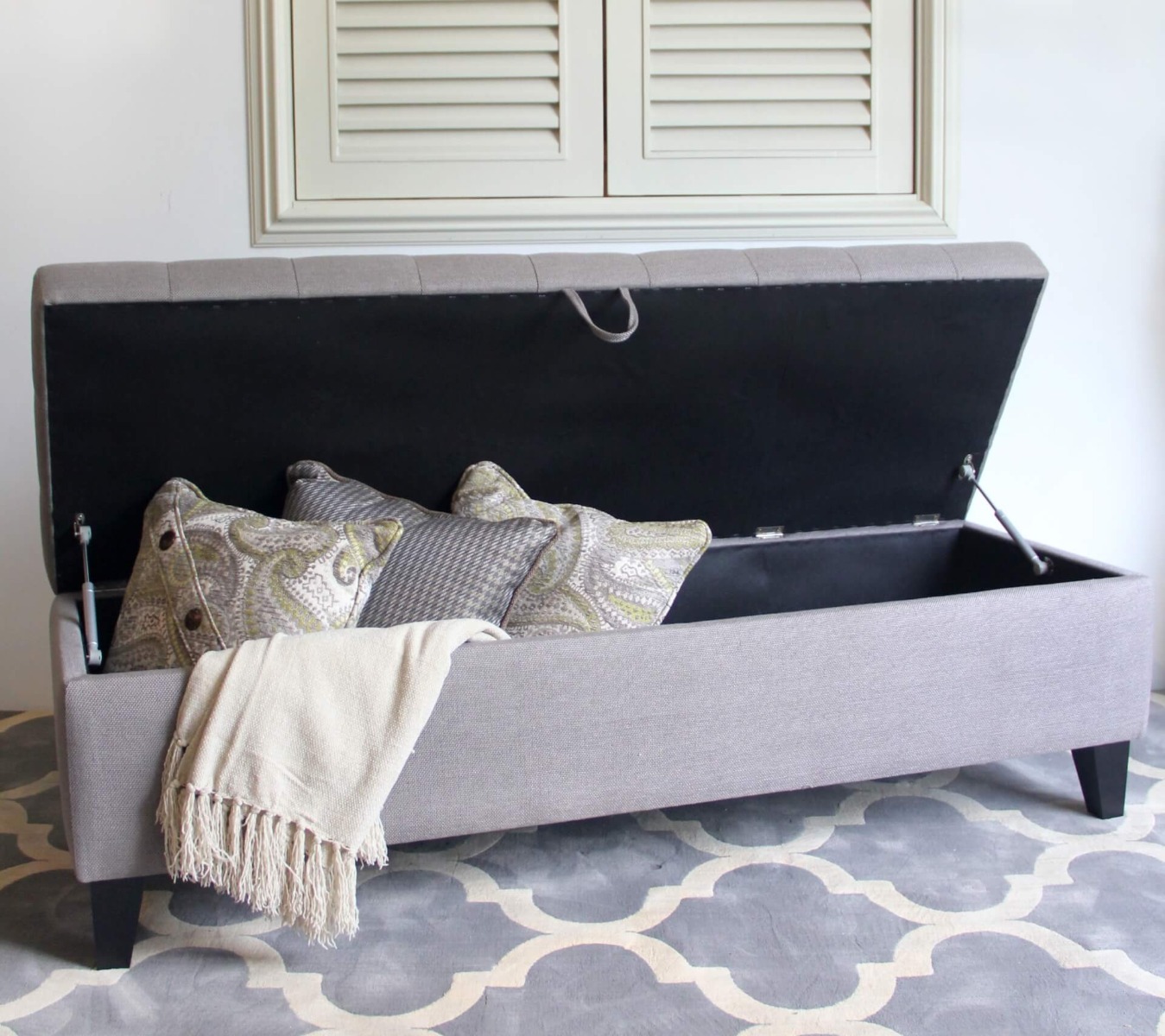 Buy Kaylee Storage Trunk from Fella Design!
---
Storage Bench
Yet another kind of bench to consider is the storage bench! Definitely a popular furniture type for the living room, thanks to its utilitarian functionality. A storage bench can not only contribute to the overall atmosphere of a living room, it can also be used to store throws, additional side cushions, or anything else that might need storage.
---
There are plenty of other alternatives to these 8 furniture types listed here. Interior design can follow a well-worn route, or it can follow an exciting, newer path. The choice is yours. The next time you think of living room ideas, go for a unique combination of furniture!